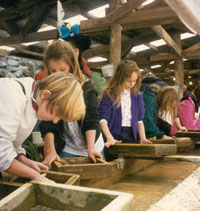 Emerald Village is an exciting destination for hundreds of groups every year. We welcome groups and offer special rates for groups of 25 or more by advance reservation only.
We Provide the Following to Groups with Reservations:
Your tour begins at the NC Mining Museum, with a digital slide show in our indoor theatre. This short presentation gives history and facts about the Emerald Village mines and an overview of the various attractions and activities you'll want to see while at Emerald Village.
Next you will tour the underground Bon Ami Mine. You'll see historical displays, the Bon Ami waterfall, the Hidden mine, and the black light tunnel. Each member gets a color gem identification chart and a free specimen of Mica.
Then we visit The Gemstone Mine flume and each person gets a bucket of gemstone mix to search through for genuine rough gems. Keep everything you find!
In addition, groups are invited to browse the Discovery Mill Building, with several new exhibits, as part of the group package, including the Wildlife Display, the Black Light Mineral Display, the Model Railroad Display, and the Antique Music Museum. We have a snack area with cold drinks, chips, snacks and ice cream. You are encouraged to bring your own lunch and enjoy a picnic in either the indoor or outdoor picnic areas. Please let us know in advance if you plan on doing so. Two gift shops offer inexpensive souvenirs, gifts, rocks, and jewelry, so be sure to allow a little shopping time. We have ample bus parking and clean restrooms. Your group will learn about geology, earth science, minerals, gems, mining and area history while having an experience they will never forget! Many of our groups come back year after year!
Additional Information: All groups must be adequately supervised and must pay in 1 payment as a group upon arrival, unless other arrangements have been made in advance. Allow a little extra travel time and at least 2 hours for your visit—3 hours is better if you plan on having a picnic, seeing the free exhibits, or shopping. If your group is visiting several attractions in one day we suggest you make Emerald Village your first stop. We recommend that you confirm your reservation with us and check on the weather by calling the day before. It can be cool in the mountains; light jackets or raincoats are a good idea, especially in the spring or fall. All groups must arrive at least 2 hours before closing.
Wheelchair/Stroller Access Note: The slide show, Gemstone Mine, gift shops, restrooms & picnic areas are all partially accessible to wheelchairs and strollers. Because of stairs, the underground mine tour, the Black Light Mine Tour, and the Discovery Mill Building displays are not wheelchair/stroller accessible.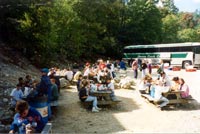 Rates:
Special group pricing (25+) is $12 for students and $16 for adults, plus tax. All group tours include (A) the Mining Museum Mine tour, (B) the Discovery Mill tour, and (C) a gemstone bucket. Each group member also gets a color gem identification chart and a free piece of Mica.
For Reservations - Call 828-765-6463 or email info@emeraldvillage.com. Upon confirmation of your reservation, maps and more detailed information will be sent.
We look forward to hosting your group soon!