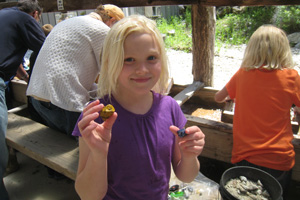 One of the most exciting aspects about Emerald Village is the opportunity to prospect for gems and keep what you find. The special thing that sets Emerald Village apart from all the other "gem mines" is that we do it in REAL mines that have produced a variety of gems and minerals. Our North Carolina Gemstone Mine is located in the awesome Big Deal Mine, an impressive historic underground mine that produced a variety of gems and minerals. These mines are closed now but provide a spectacular backdrop!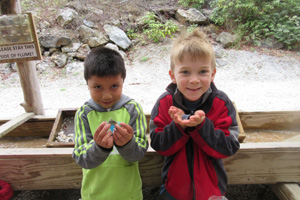 The Gemstone Mine is all about having fun in a comfortable, spectacular setting. We have two long covered flumes that run with cold mountain water. Mine for gems regardless of what the weather does. Our staff will explain the various gem buckets available and how to search for gems. We'll help you identify what you find and our trained professionals will take your order to cut and polish your special finds and make them into attractive jewelry. What a great memento of your visit!
No reservations are necessary at our Gemstone Mine and we provide the equipment. Wear comfortable clothes but we've done the dirty work by providing buckets of gem-bearing materials to search through.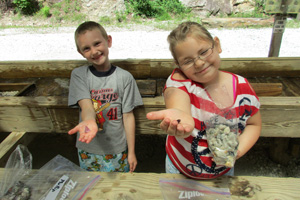 All our buckets (except the Native Bucket) contain ore mined from local mines, along with rough gems added from other mines so we can guarantee "A Gem Find Every Time!" The mixed buckets contain up to 25 different mixed varieties of gems including Amazonite, Amethyst, Aventurine, Aquamarine, Carnelian Agate, Citrine, Emerald, Fluorite, Garnet, Kyanite, Moonstone, Opal, Red Jasper, Rose Quartz, Ruby, Sapphire, Smoky Quartz, Sodalite, Topaz, Tourmaline, Unakite, and others.
Wheelchair/Stroller Access Note: The slide show, Gemstone Mine, gift shops, restrooms & picnic areas are all partially accessible to wheelchairs and strollers. Because of stairs, the underground mine tour, the Black Light Mine Tour, and the Discovery Mill Building displays are not wheelchair/stroller accessible.
Gem Buckets Available at the:
Gemstone Mine
(To order gem buckets by mail visit our
Online Store
)
| | |
| --- | --- |
| KID'S BUCKET! 1 gallon bucket with mixed gemstones! | $10.00 |
| SAMPLER BUCKET! 2 gallon bucket with more and larger stones! | $20.00 |
| GEMSTONE MIX! 3 gallon bucket, even bigger and better! | $35.00 |
| THE MINE BOSS BUCKET! 4 gallon bucket with some special finds! | $50.00 |
| STAKE YOUR CLAIM! 5 gallon bucket super-concentrated gemstone mix! | $100.00 |
| THE BIG DEAL! (+ get 1 stone cut for FREE!) 10 gallon barrel of our best rich gemstone mix! | $250.00 |
| THE BIG BONANZA! (+ get 2 stones cut for FREE!) 20 gallon barrel of fun! The ultimate gem & mineral mix! | $500.00 |
EMERALD BUCKETS!
1 gallon - $35.00
2 gallons - $50.00
3 gallons - $100.00
NATIVE BUCKETS! Dug from the McKinney Mine dumps. Nothing added, nothing removed! Contains local minerals and lots of Mica! (Gems are not guaranteed and are scarce.)
2 gallons - $15.00
4 gallons - $25.00