Did you know that the first place gold was discovered in the United States was in North Carolina?
Did you know that North Carolina was the leading producer of gold in the United States until the California Gold Rush?
Did you know gold has been found in this area?
Did you know that panning for gold in North Carolina is a lot of fun?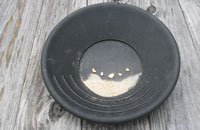 Now you can experience the thrill of finding a flash of gold in the bottom of your gold pan! Gold fever has struck, and gold panning is now available at Emerald Village. We use ore sand directly from a North Carolina gold mine that has produced gold for more than 100 years. The sand is dug from rich deposits in McDowell and Rutherford counties. There is always a chance that your pan will contain native gold! However, in order to guarantee gold in every bucket, we add genuine natural gold nuggets or flakes. We don't guarantee the amount of gold or that you will find it! But we guarantee there's gold in every bucket!
We provide the gold pans and water troughs, and our trained staff will show you how to get started. You'll have a lot of fun and will generally get enough sand to do several pans in each size level. You may find a few tiny gems too, perhaps a piece of fool's gold, and lots of sparkly mica. We'll show you how to retrieve your gold, and you will get a small vial to save it in. Come Stake Your Claim!
HAVE YOU GOT GOLD FEVER YET?
WE HAVE GOLD PANNING FOR EVERY BUDGET!
The basic starter panning experience is $15.00 – It's fun, and almost everyone finds something!
Gold Buckets are available at $15.00, $25.00, $50.00, $100.00, $250.00, $500.00. Each price level upgrade offers more ore, more gold, and larger pieces.