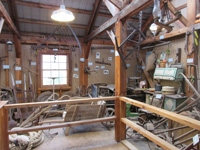 One of the most picturesque aspects of Emerald Village is the Discovery Mill building, which climbs up the mountain overlooking The Gemstone Mine. This fanciful building was inspired by the historic mill building that stood right across the road in early days, of which there is now no trace.
Discovery Mill encompasses 10 different floor levels of shops and exhibits and covers a wide variety of themes and collections.
The Discovery Mill Museum is open by separate admission ($5.00 ages 13 and up, $3.00 ages 5-12, and free ages 4 and under with paying adult).
Be sure to allow a little time (and energy) to explore all the different rooms. As you climb the stairs each level offers a different vantage point to enjoy the impressive view looking into the Big Deal Mine.
The first floor houses the Crabtree Junction Shop, with information, clean restrooms and a variety of souvenirs, gifts, drinks and snacks. Enjoy a hand-dipped ice cream cone, a cup of coffee, chips & crackers, many varieties of drinks, refrigerated sandwiches and other convenience items. There's an indoor picnic area available right up the stairs or you can use our outside picnic facilities!
Some of the other attractions in Discovery Mill include:
The Model Railroad Exhibit – 2 working model trains in a fantastic display!
The Black Light Mineral Display – incredible hidden colors come to life!
The Homestead Museum – a collection of antique tools and equipment!
The Worldwide Gem & Mineral Collection – some fantastic stuff!
The Native Wildlife Exhibit – a favorite of the kids!
The Antique Music Museum – awesome collection of organs, music boxes & more!
The Museum Annex - more good-old junk than you can imagine!
Local Indian Artifacts – an amazing collection from our first settlers!
The Stock Room – colorful collection of old mining stocks!
Drone Videos -View 3 drone videos of Emerald Village from the air!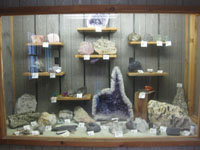 The Discovery Mill Building adds new levels of adventure and exploration to your Emerald Village experience. It's fun to discover Discovery Mill!
Wheelchair/Stroller Access Note: The slide show, Gemstone Mine, gift shops, restrooms & picnic areas are all partially accessible to wheelchairs and strollers. Because of stairs, the underground mine tour, the Black Light Mine Tour, and the Discovery Mill Building displays are not wheelchair/stroller accessible.